Native Advertising. Features and Future
The Concept of Native Advertising
Scientists Jan P. Benway and David M. Lane in 1998 proposed the term "banner blindness" when a visitor simply does not notice bright, catchy ads. In 2013, after the publication in the web version of The Atlantic magazine of material similar to editorial content with themes not characteristic of the magazine, which caused dissatisfaction of readers. The situation was complicated by the fact that after the publication, a large number of fake comments appeared, which also outraged readers.
From that moment, experts began to talk about non-native and native advertising seriously.
Native advertising is an advertising product that does not immediately catch the eye. Such a product is logically woven into the text, information on the website or application. It does not cause consumer dislike, in contrast to direct advertising.
The average Internet user comes across several thousand different banners on websites and other types of advertising products per day. Of course, it also works, but native advertising is much more effective because the consumer perceives it as useful information for himself.
And native ads are becoming more and more popular, accounting for nearly two-thirds of all digital display ad spend. In fact, native digital display advertising spends in the US is $41.14 billion in 2019, according to the latest eMarketer report.
Native advertising captures the world, you can see it on almost all existing advertising platforms. On the radio, broadcasters speak well of a product whose producers sponsored the program, or the product is subjected to expert examination in commercials, or random passers-by respond to it, or advertisements mimicking editorial articles are published on various sites. And what can we say about native advertising from bloggers?
Therefore, the main goal that you need to strive for when creating native advertising is to provide the user with really high-quality and useful information and not to prevent him from spending time on the Internet the way he wants.
The Main Features of Native Advertising
NA Evidences:
the nativeness of the communication channel for the audience and the subject of advertising;
the nativeness of the advertising medium for the issue of advertising;
the nativeness of advertising placements in the general information flow;
the nativeness of the advertising message itself.
NA Properties:
interesting for the target audience;
organic to the general information series;
unobtrusive.
NA Types:
Product placement is an advertisement built into the video series;
Promotional news in the news feed;
Advertising stories are brand stories, copyright stories related to advertised products;
Search engine contextual ads are ads displayed in the context of search results;
Advertorials are editorial articles with integrated advertising;
The FAQ and useful tips these recommendations are essential and valuable for the target audience related to the advertised subject;
Sponsorship when a sponsor is somehow associated with a sponsored event or sponsorship subject.
What are The Cons of Native Advertising
Native advertising misleads the user, because he wants to find out information, but receives advertising, feels cheated. Because of this, it has been repeatedly criticized. Users are favored by native advertising if it's exciting and practical.
Because of this, native advertising has become the subject of numerous angry tirades. So, for example, John Oliver, in his show "Last Week Tonight," noted that even if native advertising is clearly designated as an advertisement, this does not mean that it is trustworthy. He refers to a study conducted by IAB, which showed that half of the audience could not distinguish between native advertising and current news, and also indicates that advertisers rely on consumers who are not intellectually developed.
How is the conclusion here? Perhaps the one that you should not consider native advertising as a way to disguise your advertisements as news, because such advertising is likely to fall into the category of evil and lead to the complete disappointment of customers with the company. And even having removed such an advertisement, it will be impossible to regain its reputation.
Of course, there is no universal recipe for every type of business. But one thing is clear that for the audience to receive positive emotions from native advertising, it is necessary to make every effort to create the highest quality and exciting content. After all, when you read a fascinating article based on pure facts, it's not so essential for you to in principle, whether it is an advertisement or not, is it not?
The Future of Native Advertising
It's safe to say native advertising will continue to evolve. Let's stay up to date with the following native trends in advertising.
Social Media
Currently, native ads are seen on search engines, publisher sites, retail sites, and social media platforms. But if we look closer at native ad spend, we see that native ad budget for publishers is on the decline, and social media is picking up the slack. To date, social networks accounted for about three-quarters of media advertising spending in the US and Europe. Instead of purchasing ad placements on Forbes, Huffington Post, BuzzFeed, and others, brands are investing more into Instagram in-feed advertisements, Snapchat filters, LinkedIn Sponsored Content, and other similar ad types found on social media.
Mobile
In 2018, 52.2% of all web traffic originated from mobile devices. In general, by 2020, spending on mobile digital advertising increased by 26.5%. However, given the benefits that native advertising provides on mobile devices, native mobile advertising is also becoming a critical investment. With limited real estate on mobile devices for display or banner ads, native ads afford more opportunities to engage your target audience on mobile.
Native Video Ads
According to the IAB Video Ad Spend Study, half of the advertisers will increase their spending on digital and mobile video ads. The IAB study also found that half of the advertisers have increased their video advertising allocation to native ad opportunities. As a result, native video ads will become more prevalent in social media feeds, publisher sites, and more.
User-Generated Content
Today's consumer covets authenticity. User-generated content helps build brand authenticity, creating deeper connections with your audience. For example, you might see more polls, surveys, or social media posts appear in native ad placements to drive audience interaction and build trust.
Ethics Disclosure
While native advertising resembles natural content, no one deserves to be deceived. To make sure that advertisements are clearly labeled, you'll see more and more platforms creating ad disclosures that are more prominent even on native ads. This gives the user greater transparency on what is and isn't a paid promotion, so they can make more informed content consumption decisions.
Native Ads and Programmatic Buying
Programmatic advertising is on the rise, with 65% of B2B marketers reporting that they currently buy or sell advertising programmatically, up from 54% in 2016. This comes as little surprise considering the speed, accuracy, and intelligence of programmatic ad buying software. Just plug in your campaign goals and KPIs, and watch the programmatic algorithm evolve based on audience behavior. The marketplace can change in an instant, and programmatic buying can help to ensure that your ad campaigns quickly adapt to change.
When applied to native advertising, your in-feed, paid search, or other native ads will have a more exceptional ability to reach specific audience segments. The programmatic algorithm will also help optimize native ad campaigns, doubling down on what works and pausing what doesn't.
Let's take a look at those platforms that help to cope with the overwhelming tasks of native advertising and what benefits they bring to the consumer.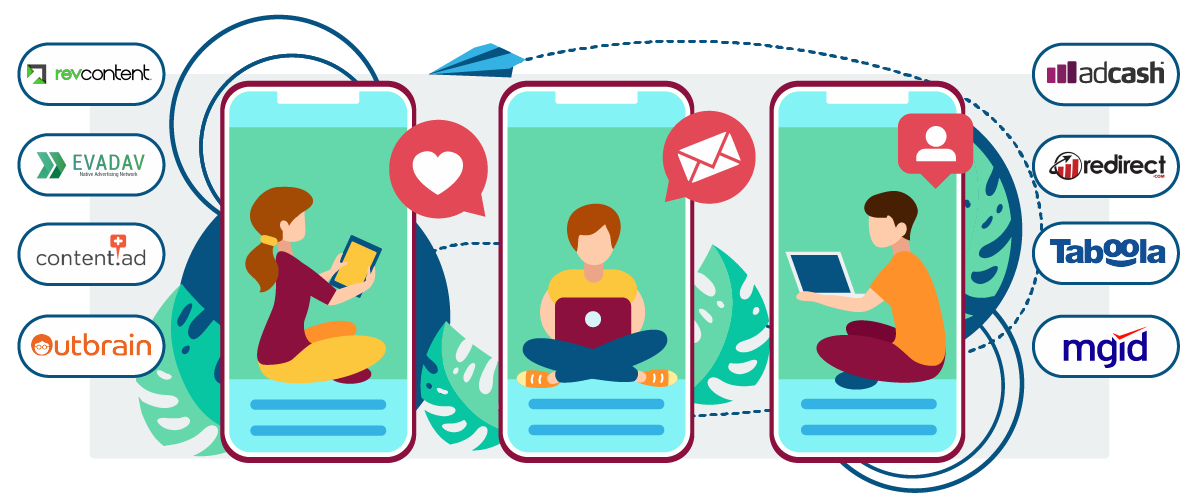 MGID
MGID is one of the pioneers launched in 2008. It has spread to millions of websites and has subsidiaries targeted at specific regional markets. This is one of the friendliest affiliate marketer platforms, requiring a deposit of only $100 to start your first campaign.
Revcontent
Revcontent is a relative newcomer who seeks to strike the right balance between publisher quality and affiliate friendliness. And they mean business. It is no accident that they are often called the "fastest-growing native advertising network," although their growth strategy is somewhat limited. The Revcontent team has set high standards for its publishers, for example, requiring a website to generate at least 50,000 visits per month, and proudly declares rejection of 98% of all publisher applicants.
EvaDav
EvaDav may be a relatively new company for the native advertising space. In the several years that have passed since their creation, they have already abandoned some pretty hefty advertising technology, proving that the experience and vision of the team are on an equal footing with any other advertising network that you can name. EvaDav has truly overcome all difficulties, from the original push notification format to the patented fraud protection system and the predictive behavioral algorithm.
Adcash
Adcash is a fully transparent self-service DSP that has dominated the popunder market since 2007. In recent years, they began to switch to less intrusive advertising formats and introduced native advertising at the end of 2017. The Adcash online advertising platform is the perfect place to start affiliate marketing, as their easy-to-use platform allows you to run, manage, and analyze all your campaigns in one place. In addition to Adcash, they are immensely struggling with advertising fraud.
Taboola
Tabula has existed since 2007 and has high authority. This is a platform that you can use if you want your content or offers to really show up in AOL, NBC, Business Insider, MSN, USA Today, etc.
Outbrain
Outbrain was founded in 2006. Their motto is quality. Quality in every possible way. Just imagine, to get access to the Outbrain network, a website must be visited by 1,000,000 people a month! This is a massive disconnect for most websites, even if that number is negotiable. But, as a result, you have the opportunity to appear on absolutely high-quality placements such as CNN, Fox News, Daily Telegraph, The Guardian, Mashable, and others.
Content.ad
The Content.ad team combines vast experience in marketing and technology to create innovative and highly effective advertising solutions for customers of any level. The company was founded in 2002 and became a pioneer in native advertising, offering a wide selection of advertising technology options. As of 2019, the Content.ad network of publishers has expanded to over 66,000 approved websites that generate more than one billion impressions per day.
Redirect.com
Redirect.com provides customers with the ability to both buy and sell traffic through a real-time bidding system. The popularity of Redirect is growing rapidly. Among other things, you can buy displays, email addresses, domains, pop-ups, and RON traffic. Their intuitive geo-targeting system allows you to monetize all international customer traffic and provides them with profitable RPMs.
Our Expertise With Native Advertise
Our company already has rich experience in integration with systems of this type. Amoniac's portfolio includes many developments that make the life of any business acting easier and much savingly. As an example, some of them are AdOptimizer, Zucaza, and Natify.
Adoptimizer
Adoptimizer is an excellent platform for optimizing advertising campaigns. It operates automatically 24/7, providing entirely accurate reports, which can be wholly trusted. The application can redefine the rules of the impressions, change rates and budgets, change hundreds of combinations, massively create companies, download content, etc. The app boost ROI saves time and generates more revenue by entirely automating a natural ads campaign optimization process.
Zucaza
Zucaza application was created specifically for the Real Estate Market. It can generate advertisements, as well as retargeting them. Zucaza makes it possible to virtually abandon the creation of different types of ads manually, thereby significantly saving time, and redirect resources to another more desired company's way.
Natify
Natify is a paid media platform for the B2B market that connects personalized content with target audiences via programmatic technology. Has its own analytics system and integrates with the top marketing automation systems. It generates higher engagement and ROI. Natify covers 80% key accounts during the first year of employment and helps acquire high-value customers faster and cheaper, owing to cost-per-engagement billing online marketing ROI increases up to 10 times.
Summary
Digital advertising is a key marketing tool for reaching and engaging target audiences. But as people become more sophisticated in how they discover and interact with content, native advertising provides brands with a new way to get their message out. It is worth remembering one clear rule, namely, "People read what they are interested in, and sometimes this turns out to be an advertisement." If it hits the target, it automatically becomes a powerful tool in any of your marketing campaigns.
What do you think about native advertising? What emotions did you experience when you came across her? Have you used it for your business, and if so, what benefits did it bring? Write about it in the comments, it will be very interesting to know your opinion.
Also, if you already have ideas for developing your personal software or thinking of any improvements, you can contact our developers at any time at hello@amoniac.eu or +372 5770 7573.