How to integrate Netvisor to Shopify and simplify the company's business processes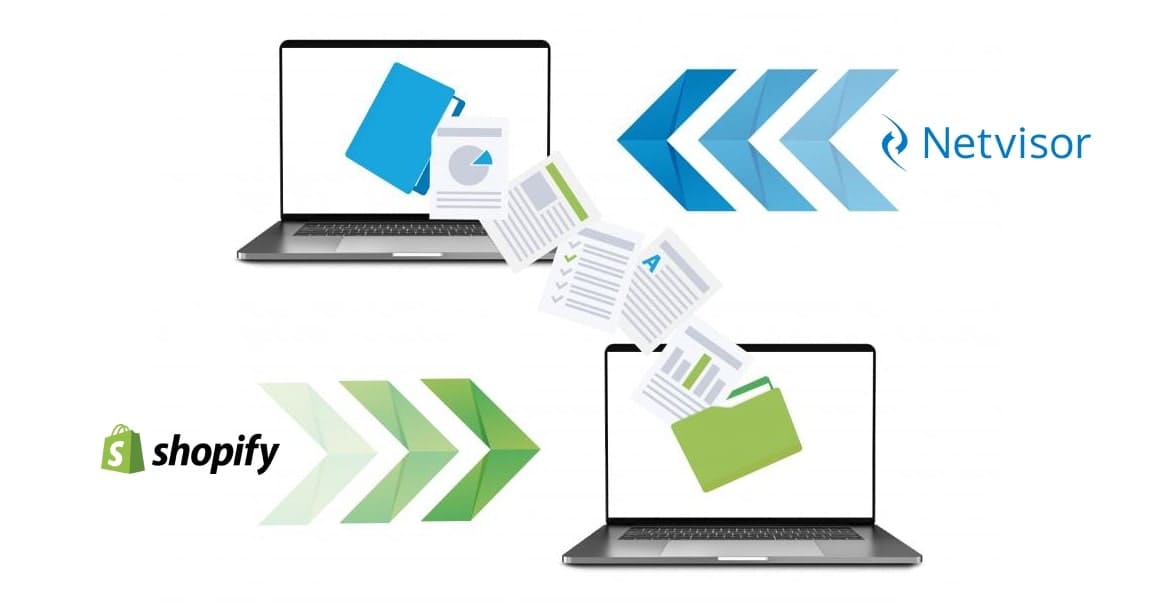 The Basics Netvisor to Shopify Integration
Today Shopify wizards can use 5-10 tools from the Shopify app store to generate more revenue from each customer. But e-commerce experts are not limited to the built-in features of the Shopify platform.
While Shopify has existing solutions for the most common store functions, such as reviews, loyalty programs, product recommendations, etc., you will find that additional third-party integration can allow you to penetrate deeper into high-impact areas than with standard functionality out of the box.
Finding out which integrations solve the most common problems for shop owners, we identified the most recommended tools like:
Analytics
Development
Email Marketing
Loyalty Programs
Sales Funnel
Review Management
Workflow Automation
Here, in this article, we will look at the integration of the accounting platform Netvisor into the admin panel of your store on the Shopify platform.
Netvisor is one of the most popular and functional platforms for accountants, occupying leading positions in the whole northern region, as well as in the Benelux countries, Central and Eastern Europe. Belongs to the Norwegian company Visma Group. Consists of five business areas: SMB, Enterprise, Commerce Solutions, Custom Solutions, and Cloud Infrastructure Services.
Thanks to the Netvisor system, customers can:
make their own online billing;
automate accounts and banking transactions with updates directly in the ledger;
leave billing directly to the Netvisor team;
serve VIP customers with the help of the Netvisor team;
collect debts with the help of a Netvisor, etc.
Developing Netvisor to Shopify integrations it's easy. Such a solution may cover a number of tasks that were previously unbearable or required additional labor. Pre-modeled use scenarios by Amoniac professionals guarantee trouble-free adaptation. Here's how we can make the transfer of data and sync Netvisor and Shopify:
The integration service automates billing for e-commerce. It automatically transfers e-commerce orders to Netvisor, where only an "invoice" is issued.
The integration service can also automate reports from the payment service provider, with the result that the correct order is automatically assigned to the payment account.
Thanks to the concentration of product and inventory management in Netvisor and the integration service, inventory changes, and product information are updated in real time in the online store.
Our solution for Step by Step Netvisor to Shopify Integration
Many and many solutions can be found on the topic of how to Integrate Netvisor to your Shopify, but here is our view on simple things.
Request and access NetVisor
To connect to NetVisor, you need to carry out some fairly simple manipulations. Initially, an application is submitted to request the necessary data to connect to the API right here //docs.google.com/forms/
Next, you need to wait for a response with the access data to implement the NetVisor API.
The decision to save all orders. Sales invoices in NetVisor or Voucher Reports
As a rule, the entire payment process has its sequence. It is usually the creation of an order, transfer it to invoices, paid invoices, pending payment, and vouchers. NetVisor provides an opportunity to build a clear and transparent report based on specific data for a specified period. Each accountant makes an individual decision about accounting. He can update the data from the order to the voucher in the current mode or make monthly only information about vouchers. To receive reports daily or for a specified period, in NetVizor you can do everything optional.
Shopify embedded application creation
We can create customized apps to have constant user experience with Shopify Polaris. The SDK for embedded applications allows you to create embedded GUI functions.
Quickly create the best experience for Shopify sellers. Each component contains information that will help to implement them, such as:
An explanation of the merchant's problems that she solves in the interface
Interactive examples so you can see the component in action
Best practices and recommendations for proper use of the component
There are two options for installing and implementing components: React or CSS.
Reactive components (recommended). You can use React components, especially if you are creating an interactive interface. This can be done with or without an assembly system.
CSS components. You can use CSS components if the build system for the project is not needed.
Embedded app settings for receiving new orders
It is possible to use the embedded application Settings for receiving new orders. This is useful for Shopify merchants who receive orders through external channels, and provides a wide range of use cases, including the following:
Create new sales orders made by phone, in person, via live chat or other means. Credit card payments for these orders can be subsequently entered into the Shopify administrator.
Send invoices to customers for payment using a secure payment link.
Use custom items to represent additional costs or products that are not displayed in the store inventory.
Re-create erroneous orders.
Sale of goods at a discount or at wholesale prices.
Reception of pre-orders.
NetVisor synchronization
Custom development and integration ensure a smooth way to communicate software services with each other. Setup is very simple because after activating the interface, a new part of the Netvisor menu will appear in the admin panel.
To start the transfer, the user must enter the Netvisor client ID, client key and organization ID, and that's it! The first gear will begin at the end of the same day.
How our solutions can work as a result
Supplier Portal
Supplier Portal is a platform developed for ComBuyIt. It connects the ComBuyIt store to other online stores and gift cards retailers through API or email. For all transactions, Supplier Portal automatically generates invoices and credit notes. Its primary purpose is the automatization of the execution of the orders. ComBuyIt operates under dropshipping e-commerce model. More about the project here https://amoniac.eu/works/supplier-portal
bids.com Shopify App
Bids.com is an online shop of exclusive jewelry, watches, designer accessories and artwork from California created on the Shopify platform. We have developed an embedded application to the Shopify platform admin panel, which made it possible to fully synchronize orders with the supplier 24/7 and update data on stock, prices, descriptions, photos, and IDs without requests. Additionally, developed and implemented the possibility of auction sales. More about the project here https://amoniac.eu/works/bids-com-shopify-app
Both apps are useful for any e-commerce activity that allows you to save time on daily routine operations significantly.
Benefits of Netvisor to Shopify Integration
More detailed customer tracking
When it comes to clients in a physical place, it is difficult to understand exactly what they are doing. By selling online, you can collect information based on their purchases and the frequency of visits in order to better tailor the sales experience to them. Automatically transfer all collected information to the Netvisor system, as a result, receive autocompletion and timely reports.
Large area for sales opportunities
If your store is located in Europe, it is unlikely that customers come from America to make a purchase. Thanks to the location, in the online store you can control the volume of sales. Boxes with fixed rates are usually offered so shipping costs can be quickly and easily calculated. Connecting the system to the platform NetVisor Shopify, it is possible to automatically adjust the filling and sending bills, the arrival of money and the automatic sending of goods to the buyer. Due to the large coverage of e-commerce and integration with accounting systems, products from anywhere in the world can quickly become a national phenomenon!
Sales are not limited to shop hours
The best feature of online shopping is that the doors are always open. This is one of the greatest amenities that can be provided to the customer. The presence of an online store means that they can shop at a convenient time and in any place. If a client wants to stay at home in his pajamas on a lazy Sunday, he can still view the virtual shelves of your business from the comfort of his own home. And he can make purchases on a 24/7 basis, provided that e-shop has intercommunication with accounting systems. Round-the-clock service is the best that can be offered to the buyer, and in the online store, they do not even need to go to the store.
Summary
Nowadays, most online stores are built on third-party software platforms like Shopify. Such companies are responsible for the technology underlying the website as an experience of placing an order, the layout of the user interface. But with Amoniaс, you are not limited to just one e-commerce option. Using our integration and embedding options, you can create your own connector for almost any e-commerce platform you choose.
If you already have ideas how to simplify work in your company, save time, optimize the online shop or think about any improvements, you can contact our certified developers today directly by hello@amoniac.eu or +372 5770 7573.