Ruby on Rails' Big Place in Marketplace Development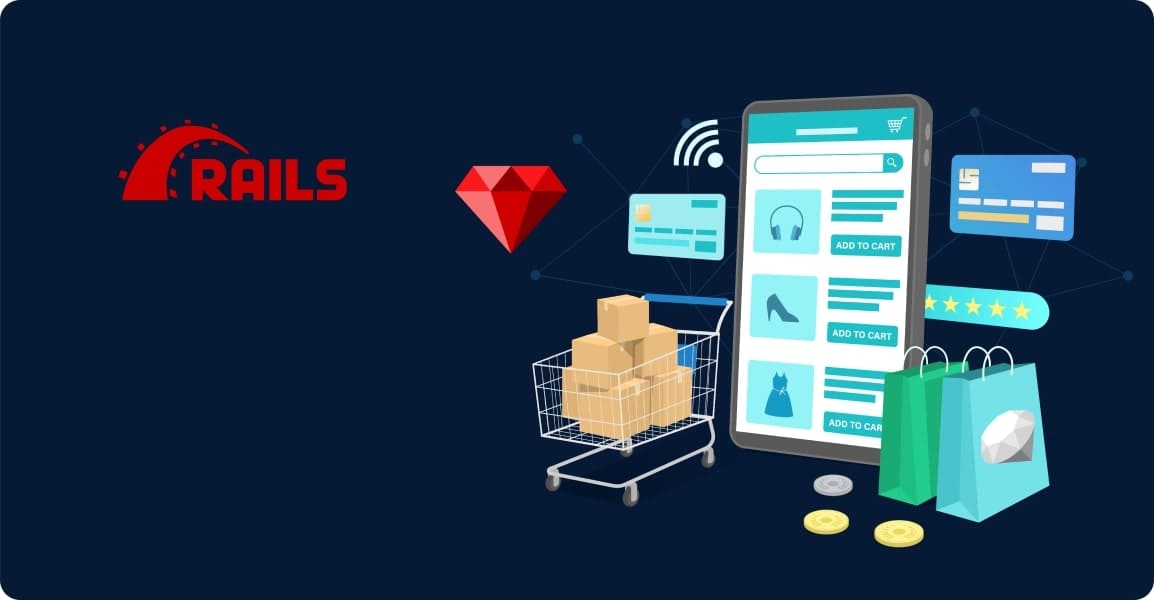 What is The Marketplace?
When Pierre Omidyar launched the eBay project in 1995, he, without even knowing it, became the founder of the marketplace. On the site, he gathered collectors and those who were willing to pay for rare things.
The first sale on eBay is a broken laser pointer for $ 14. The man who offered the lot from childhood collected pointers. And no matter how surprising the proposals sometimes seemed, everyone responded to the audience. Hence the company's slogan: "When it's on your mind, it's on eBay". The very idea is to create conditions for consumers to meet with suppliers, it became the foundation for the definition of marketplace.
A marketplace is a market square, place of trade. Marketing deals are a place where you can meet, negotiate, conclude contracts, cooperate with all interested market participants. A classic example of an online trading platform is the Freelance Exchange. Customers can find contractors for the required work, and contractors can find clients and get paid orders. All processes are solved as quietly and quickly as possible.
For the B2B business, the digital marketplace brings even more benefits and opportunities. For example, Alibaba.com a centralized platform in which retailers and wholesalers can find partners and instantly make a deal. Before the advent of this service, merchants had to independently search on the Internet for suppliers and manufacturers of Chinese goods.
Travis Kalanik and Garrett Camp tried in vain to catch a taxi in Paris when the city was covered with snow. Then they got an idea: how it would be convenient to press a button on mobile and see empty cars in the vicinity. In March 2009, they realized the idea in America, in 2010 they reached the international level.
Uber has become one of the popular marketplaces in the services market - it helps to find transport in different cities of the world (more than 450). Users track the route of the taxi and pay for travel through the mobile application. Following the example of this company, others have appeared where you can hire a nanny for your child, find a gardener to mow a lawn or a veterinarian who will cure a dog.
If you do not understand why marketplaces won the Internet, think from the user's point of view that it's simpler:
Search for things online or search engine site eBay?
Save the phone reliable taxi services or use the Uber application?
Sell an old laptop on the market or place an ad on Olx?
Rent a room on the official website of the hotel or choose an apartment on Airbnb?
The principle of operation of modern marketplaces implies excellent opportunities for developing their own business based on them. Compared with the "classic" start, it will cost less. If we want sellers to place and sell their goods. Some marketing opportunities have the function of secure payments, as well as provide a chance to manage the remnants of goods in stock, all, like real online stores.
The Main Reasons Using Marketplace
To decide the need to expand the business, need to learn about the advantages of working with marketplaces. Here are some examples.
Audience expansion
The reason that most influences the profit is getting new customers who for some reason decided not to use the site. The reason may be mistrust, poor design, lack of adaptive layout and much more.
Clearance Sale
If even after the sale, there are remnants of poorly moving goods, then the marketplace is an excellent choice. With its help, it will be possible to sell the goods at a lower discount, freeing the warehouse under the current positions.
Increase SEO efficiency
If only the main categories of goods are sold in the online store and the rest is put on the marketplace, then it is possible to implement the budget for SEO more effectively. The smaller the group of goods, the more consumers can be attracted using the same resources.
Work under the famous brand
Almost all customers who have ever been missed know about Marketplaces and trust them. Many people use them for the following reasons:
low prices caused by high competition among sellers;
the ability to order goods right now, without waiting for its appearance in stock;
transaction security;
the widest selection.
Main Criteria for Choosing a Marketplace
The simplest solution is to pick the largest one. Here and a serious disadvantage for small business is competition. Thus, the most effective solution is to place on highly specialized sites that work only with your product. We present the primary selection criteria.
Reference mass
If SEO is one of the main points in the development strategy of an online business, then consider the technical tools for this offered in various marketplaces. Some sites are strongly promoted, some are not. The main task is to find the perfect balance between competition and resource popularity.
Product Categories
All marketplays use sorting by category for hosted products. This approach gives confidence that customers can find everything they need. Need to decide on this point: you will make a profit a small group of people consisting only of your Central Asia? Or a lot of traffic with a diverse audience?
Service cost
Of course, accommodation costs money. Tariffs are different: someone asks for profits from sales, someone needs a subscription fee, and someone buys a package that contains specific functions. Analyze the cost and risks that you incur.
The convenience of use
Analyze the currencies with which the marketplace works. Is it possible to use the SSL protocol, what is the appearance of the site created within the system? All these indicators directly affect whether the investment will bring profit.
The Top 10 of The World Marketplaces
There are many marketplaces available for you to use and explore. But TOP 10 world famous examples of online marketplaces here, are mentioned below:
eBay
This is a multinational e-commerce corporation, facilitating online consumer-to-consumer (C2C) and business-to-consumer (B2C) sales.
Shopify
This is a Canadian e-commerce company that created a commerce platform that allows anyone to easily sell online, at a retail location, and everywhere in between.
Amazon
This is an American computing company that provides online shopping from the earth's biggest selection of books, magazines, music, DVDs, videos, electronics, computers, software, apparel & accessories and many more other categories of goods.
Airbnb
This is an online marketplace and hospitality service, enabling people to lease or rent short-term lodging including vacation rentals, apartment rentals, homestays, hostel beds, or hotel rooms. Type: peer-to-peer.
Etsy
Etsy is a peer-to-peer (P2P) e-commerce website focused on handmade or vintage items and supplies, as well as unique factory-manufactured items.
Uber
Uber Marketplace develops, markets and operates the Uber car transportation and food delivery mobile apps. For now, this Marketplace is specific by having an only mobile app and no site. And there are many clones appear. Uber has been a pioneer in the sharing economy which means online transactions. It can be classified as peer-to-peer Marketplace.
Alibaba
It's a Chinese company which provides several types of Marketplaces at the same time: C2C, B2C, and B2B.
App Store
Of course! This is a digital distribution platform, developed and maintained by Apple Inc., for mobile apps on its iOS operating system.
Google Play
Google Play, formerly Android Market, is a digital distribution service operated and developed by Google. It serves as the official app store for the Android operating system, allowing users to browse and download applications. It can work as a B2B and B2C marketplace simultaneously.
Spotify
It is a music, podcast, and video streaming service. Officially it can be referred to B2C type of Marketplaces. Have you ever thought of this while listening to music?
Why is Ruby on Rails Marketplace Development Reliable?
Nowadays Ruby on Rails Marketplace Development on its peak and won't slow down. An explanation is quite simple: speed, low cost, productivity, availability.
Ruby on Rails reduces the time for development in 1.5-2 times, and it is a possible present an app on the market two times faster!
Ruby on Rails is free! You don't need to pay anything for use
It's perfect for CRM, CMS or e-commerce system, Ruby on Rails highly suitable for websites that require a lot of content input
Plenty of gems, so, don't need to reinvent the wheel, just use it. Especially that matters, when a deadline is a yesterday and budget, is super small.
But let's take it closer. If you are only at the start of your business journey, you need to be quick. With Ruby on Rails, you will find a lot of answers to a problem you only think you might face. You're likely to find hundreds of items on any given topic. When you're running a sprint, such network effects are the most important consideration for a startup. All the patterns or structures you can desire already exist, you have just to configure something, and voila! This is great for rapid prototyping. A small team can get a minimum viable product into beta very quickly using tools that are fun to work with. Moreover, Rails has a history: there are many years of experience which matters a lot to startups which outsource their coding. They would prefer trusting experienced hands, and Rails developers tend to have a lot of that.
Ruby on Rails online marketplace development has continued to dominate the tech space for many years. Ruby on Rails is leading the marketplace as one of the best solutions out there that will allow clients to be able to create new applications and choose the right options for their business. Ruby on Rails marketplace development is booming because it uses the language of Ruby and means that there are many options out there for development that will increase productivity, as well as ensure that there is a massive uptake in growth. When you look at the Ruby on Rails Marketplace Development, you will see right away that their client list is a who's who of fortune 100 companies and that there are many who are using the platform. A few of the Ruby on Rails clients include Amazon, BBC, Cisco, Groupon, CNET, and many more.
One of the main reasons that Ruby on Rails marketplace development also continues to be on the rise is the fact that it also assures that there is custom application development without too much of a rise in price. Ruby on Rails marketplace development ensures that there will always be a new way for companies to be able to develop custom applications out there as well for a suggested platform without huge increases in the annual IT budget. Ruby on Rails online marketplace development leads the pack because of its flexibility, scalability, and it's affordable implementation cost.